Shelburn(e) Baptist Sunday School
photographed 1893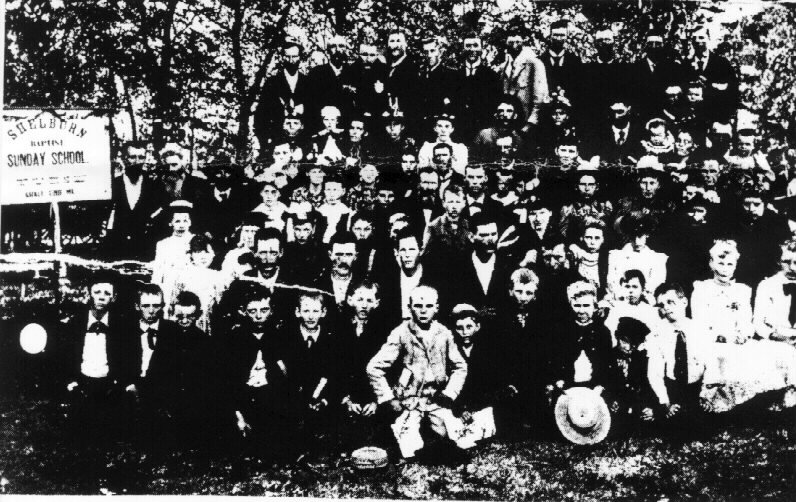 Front Row:

WALLS, Herbert
BRASSFIELD, Vincil
GOODRICH, Martie
ROBINSON, Fayette
BRASSFIELD, Frank
PROTHERO, Othe
NEFF, Roscoe
MAXEY, Earnest
MASON, M.M.
RICE, M.
MOORE, John
BOYLE, Glen
BLYTHE, Cellie
BOSLEY, Lizzie
Second Row:

MAXEY, Beva
COLE, Jim
MORRIS, Joe
COLE, Fred
DAVIS, Ed
ARBUCKLE, Luther
GOODRICH, Edna
Third Row:

CURTIS, Ethel
WIRT, Martha
MASON, Maud
MAXEY, Frank
CAMPBELL, Guy
MARLIN, Homer
BURGESS, Nell Gee
HOUSE, Bertha Moore
BROWN, Clara Goodrich
Fourth Row:

BRASSFIELD, J.N.
SIMMS, Daniel
WOLDRIDGE, Henry
WRIGHT, Ida Campbell
SWAITHES, Maggie Campbell
BACON, Ella Bradshaw
RICE, J.D.
DAVIS, Oscar
BOYLE, Norman
MASON, Stella
PARNELL, Lizzie
ROSSON, Vic
DAVIS, Lela Rice
LEEPER, Ida Robinson
Fifth Row:

COY, Annie
LORD, Ida Marlin
HUNT, Anne Marlin
RICE, Lillie Robinson
RICE, Earl
BOYLE, L.R.
BOYLE, Fannie Gee
WHORTON, Bessie
CAMPBELL, Lenora
COLE, Mary
(man &amp baby unknown)
Sixth Row:

WOLDRIDGE, Vic
PROTHERO, Harry
PROTHERO, Olive
BRIEGEL, Mary
ARBUCKLE, Mary Jane
MOORE, Walter
MOORE, Emma
WILLIAMS, Billy
BRIEGEL, Alex (?)
BRIEGEL, Katy
Back Row:

PROTHERO, _.C.
ARBUCKLE, William
BRIEGEL, J.M.
DAVIDSON, May
WALKER, John
HOUSE, J.C.
PROTHERO, William
RICE, Frank
ROBINSON, Joe
MAXEY, John
WOLDRIDGE, Homer
This material was graciously provided by Bobby Wadsworth
---
Return to the Grundy County homepage
---
This page was last updated 19 July 2003.