Pleasant Grove School Students, 1906
---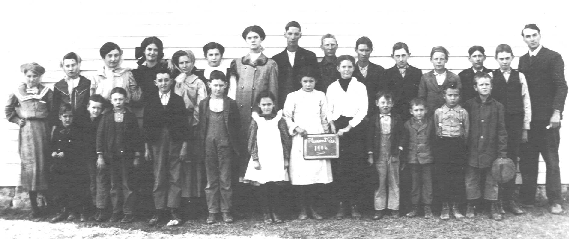 First row: L-R. Ralph Cunningham, Kenneth May, Andrew Cox, Ernest Cox, Hobart Cox, Snoda Cox, Nettie Crawford, Forrest Cunningham, Alva Mitts, Lee Cox, Andres Beckner, Presley Boone.
Top row: L-R. Ada Beckner, Verna Cox, Gladys Cox, Ruby Cunningham, Julia Beckner, Ida Crawford, Bonnie Cunningham, Raymond Cunningham, Oscar Mack, John Graham, Tom Cox, Bob Crawford, Calvin May, Ross Cox, Clair Evans (teacher).
---
---

---
Since 10 August 1999, you are the [an error occurred while processing this directive] visitor to this page.
This page was last updated 19 July 2003

Larry Flesher, Washington County, MO